IT'S HOW YOU DRIVE!
Parts Master® Oils and Filters
THE PRO'S KNOW OIL & FILTERS, DO YOU?
MOTOR OIL 101
Without oil to coat moving parts, engines would immediately seize and break. Nobody wants that. Failing to properly maintain a vehicle with regular oil changes can be a recipe for eventual failure. Motor oil adds the lubrication needed to allow an engine to keep moving efficiently and at peak performance.
Not maintaining and changing oil within your vehicle can significantly shorten the projected lifetime of an engine. Working in conjunction with both the oil pump and oil filter, motor oil performs a plethora of jobs:
Helps engines stay cool, lowering heat to protect engine components
Reduces wear and tear
Moves debris and particles from engine to the oil filter to keep engine clean
Protects and prevents the corrosion of engine surfaces
Helps maintain or improve fuel economy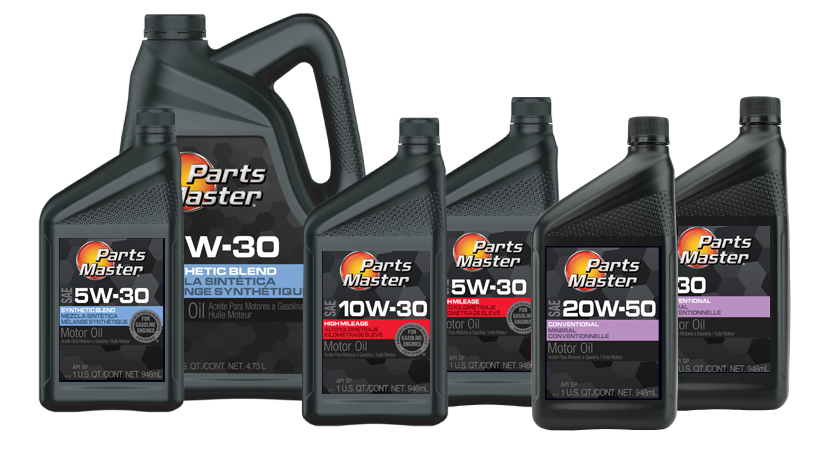 The 4 Basic Oils

• 5W-20 & 30
• 10W-30 & 40
• 20W-50
• 30W

Check your vehicle's user manual for the recommended oil for your engine.

Synthetic vs Conventional

Both synthetic and conventional motor oil go through an extensive refining process and contain additives to help achieve anti-wear, friction reduction and long life of the engine.

Synthetics can also be derived from crude oil, and typically generally contain higher quality base oils that are more extensively processed. They often contain different additives than conventional, which are designed for extra wear protection and higher stability to temperature and sheer.

An increasing number of new models and especially high-performance vehicles call for synthetic oil. Here's why:

The advent of synthetics allows scientists to better tailor high-performance formulations. In general, synthetics are less resistant to break-down, which make them last longer. Thanks to a higher viscosity index, synthetics are also more resistant to high temperatures, and able to flow better in colder temperatures.

The Common Question: What Oil Do I Buy?

When it comes to passenger car engine lubrication, there are many different oil viscosities to consider and an almost bewildering array of oil specifications as well. Add to that an abundance of different brands using slick marketing terms, and your average auto parts store or professional technician could easily have an entire wall of products to choose from.

Well don't worry, choosing the right viscosity is a lot easier than you think. Your vehicle's engine was designed with a particular oil in mind. The right oil, meeting the requirements specified in your owner's manual, will maintain the exceptional standards intended by the manufacturer for cleanliness, efficiency, heat and oxidation resistance, and a long service life.

The best part is there's a Parts Master Oil for just about everything on the road. From conventional oils, to blends, to top tier premium synthetics, Parts Master oil is made to meet the specifications outlined by national and international lubrication industry associations. So, when you see references to things like API SN, CK-4, and GF6; don't worry. Check the label on your Parts Master bottle and you'll find that we've got you covered. That goes for manufacturer specific standards like GM's DEXOS, Volkswagen's 505.00, or BMW's LL-01. Basically, if your engine needs oil you can bet there's a Parts Master product designed for the job.
CONVENTIONAL OIL FILTER
Parts Master
®
Oil Filters are manufactured of the highest quality materials and craftsmanship. Our filters meet the minimum OEM requirements for your engine's oil filtration. Parts Master
®
Oil Filters work to filter dust, dirt, sludge and foreign debris out of your engines oil, keeping your motor running at optimum lubrication. Changing your oil at OEM recommended intervals will help to keep your engine performance up and extend the life of your engine.
Parts Master® offers a broad coverage for automotive and light truck applications
Parts Master® high filtering efficiency provides maximum performance
Parts Master® designed to match OE fit, function and engine requirements
With additives and the backing of science, synthetic oil offers strong resistance to cold temperatures as they are specifically formulated for a variety of environments. Synthetics do a great job of keeping oil at the desired viscosity allowing it to flow throughout the engine.
Ultimate protection and performance
Superior sludge and varnish protection
Superior high and low temperature protection
Compatible with all leading motor oils
ADVANTAGES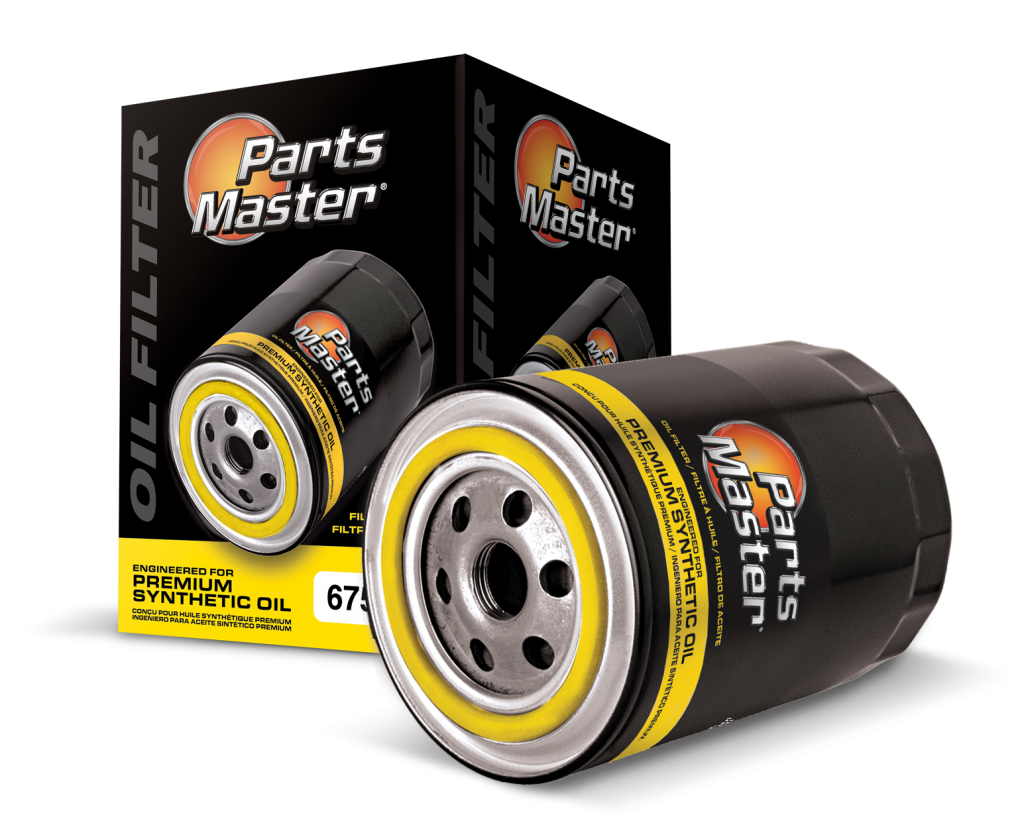 ADVANTAGES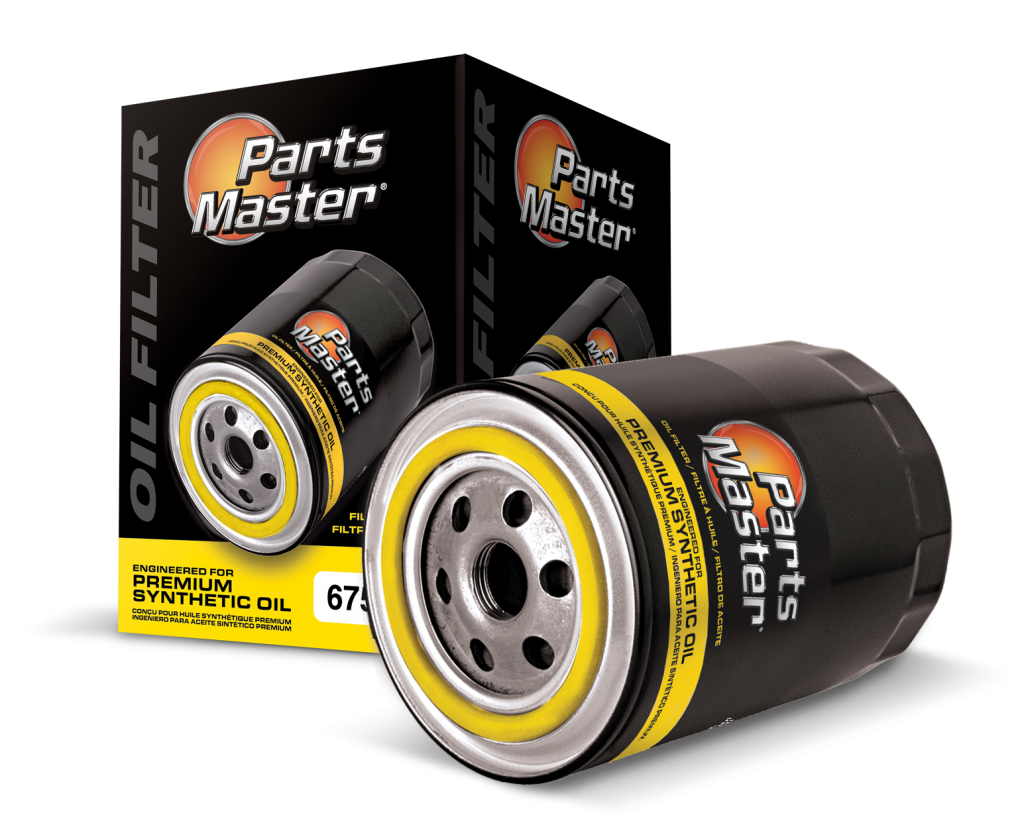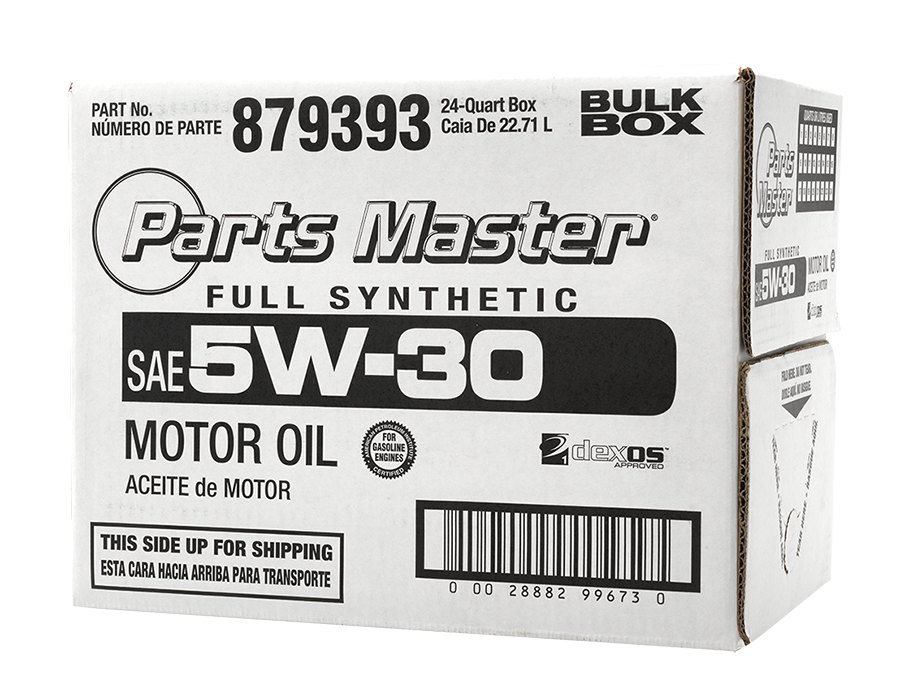 For our pros, or really serious home garage shops, we carry BAY BOX OIL. The savings are great and you don't have to deal with recycling all the empty bottles.